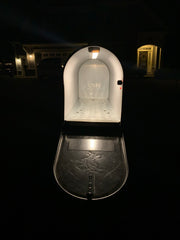 Have you ever gone to retrieve your mail at box and realized at that moment you were reaching your hand into a dark cavern where creatures of the night love to hang out?   Well living in Florida, that can mean anything from a lizard or cockroach, to a small snake.    (yes we have experienced that!!)
With those experiences in mind, we are so excited to introduce our new motion detected mailbox light!    The RetroLight is a motion detected LED light which attaches to the top of your interior mailbox as show in the picture.   
This nifty design uses a command strip that adheres to the top of your mailbox. That strip is then attached to a magnetic strip on the light itself. This allows for extremely easy removal when the batteries need to be changed. 
Speaking of battery, the light detects daylight and doesn't come on when it is light outside so its not wasting battery turning on and off all the time.   The light also shuts off automatically after 15 seconds with no motion. 
This light is perfect for people who work late, their mailman delivers late in the day, or you just don't want any surprises when you stick your hand in your mailbox to get your mail.    See it before it sees you!!